Magnakron Philippines
Magnakron Philippines
Magnakron's location in the Philippines is the perfect example of our strong commitment to product innovation and positive environmental and social impact. We're known for our on-site lab and faculty that fuel innovative product development, our global sourcing presence, our environmentally friendly plants and our passion for giving back to local communities. Learn more about some of the key features of our Philippines operation.
Magna-kron Asia Pacific
90 Angeles St. Brgy. Cupang
Alabang Hills, 1770 Muntinlupa City
+63 2 833 2461
8MCF+X5 Jose Panganiban, Camarines Norte, Philippines
Key Features of Our Philippines Operation

Product Innovation
Our control oil complex includes an on-site lab and facility that encourage ongoing product innovation and development and permits the refining and production of coconut derivatives. These derivatives undergo strict quality control and are available for consumption in a variety of downstream markets, including personal care, consumer products, coatings, plastics, lubricants and specialty chemicals.

Positive Impact
Magnakron's Philippines location exemplifies our dedication to the core values behind our production, sourcing and social commitment. Our six on-site, downstream plants are environmentally friendly, maintain a reduced carbon footprint, produce zero waste and operate on biomass power generation and recycled water systems. We prioritize our social impact and work to improve local healthcare and education.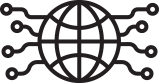 Global Sourcing
Magnakron maintains a global sourcing presence to reach customers in all corners of the globe. We are a free trade zone and ASEAN trade partner, and we have a deep-sea jetty that allows easy access for some of the world's largest vessels.