Magnakron Singapore
Magnakron Singapore
Singapore serves as Magnakron's headquarters in the Asia Pacific region, bringing high-quality products and support to customers located across our wide-reaching service area. We have experience working closely with professionals in a variety of industries, including personal care and consumer products, to determine unique needs and deliver exceptional results. Learn more about some of the key features of our Singapore operation.
Magna-kron Asia Pacific
30 Orange Grove Road
Unit 708 RELC Building Singapore 258352
+65 6235-2630
Key Features of Our Singapore Operation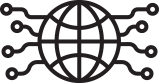 Wide Reach
Magnakron offers specialty products and services to customers in Southeast Asia, including:
Singapore – Jurong Island
Malaysia
Indonesia
South Korea
Thailand
Philippines
Vietnam
New Zealand
Australia
Our wide reach never compromises the high quality of the products, services and support that we deliver to our customers.